Welcome to the Adaptive Sports at Sun Peaks (ASSP) COVID-19 Resource Page. ASSP is committed to the health and safety of its students, instructors and community, and will continue to do our part to help prevent the spread of COVID-19. Our focus this season will be to follow all current provincial government public health orders as well as aligning with the recommendations of CADS National, ViaSport, and Sun Peaks Resort LLP Covid Policies. All policies are subject to change AT ANY TIME to comply with provincial government health orders, CADS National policy directives and the evolving nature of the pandemic.
With respect to the need for self-isolation, which affects a person's ability to participate in ASSP activities, we are adhering to the current BC CDC guidelines, last updated on 6 May, 2022. (see excerpts below).
---
COVID-19 UPDATE: 9 August, 2022
We are happy to offer our full programming this season with some restrictions and guidelines in place to follow Provincial Health Orders. While there are no restrictions on sporting events, CADS National still has a vaccination policy in place. This will be re-assessed in the fall 2022 and updates will be provided.
For information on British Columbia's current public health order click here.
---
COVID-19 Vaccination Policy
The CADS National COVID-19 Vaccination Policy is still in effect for all ASSP volunteers, instructors and students. Please visit CADS National COVID Policy updates HERE for the latest information.
In summary, CADS National is not in a position to do away with proof of vaccinations just yet and updates will be provided in the fall.
In summary, anyone 12 and older must be fully vaccinated for COVID-19 no later than two weeks prior to participating in an event, camp, program or lesson. Please read the full policy HERE , as you will be required to acknowledge reading and agree to adhere to this policy as part of the Snowline registration process.
Children under age 12 are exempt from vaccination and testing proof at this time. CADS is in the process of reviewing its National COVID-19 Vaccination Policy as a result of the November 19th, 2021 approval of COVID vaccines for the 5-11 year old age group. Any changes that may occur in this current policy will be shared here and on the CADS website as soon as available.
---
CADS National and ASSP Illness Policy
Please note that students that are unvaccinated or partially vaccinated (those under age 12) must isolate for at least 10 days. Those that are fully vaccinated are required to self-isolate for at least 5 days.
http://www.bccdc.ca/health-info/diseases-conditions/covid-19/self-isolation#How–long
If you tested positive:
If fully vaccinated, self-isolate for at least 5 days since the start of your symptoms. Wear a mask even in settings where a mask isn't required and avoid higher risk settings, such as long term care facilities and gatherings, for another 5 days after ending isolation.
If unvaccinated or partially vaccinated, self-isolate for at least 10 days since the start of your symptoms.
If you don't feel better after the 5 or 10 days, keep self-isolating until you feel better and your fever is gone (without taking medicine that reduces fever).
If you feel worse, call 8-1-1 or your medical care provider.
If you tested negative:
Self-isolate until your symptoms improve and you feel well enough to return to regular activities.
If you had a fever, stay home until the fever is gone (without taking medicine that reduces fever).
Close contacts: If you were identified as a close contact and need to self-isolate, you still need to complete your self-isolation.
How long to self-isolate if you are a close contact?
If you are fully vaccinated or have had a positive COVID-19 test in the last 3 months, you need to monitor for symptoms of COVID-19 and avoid non-essential high-risk settings for 10 days. You do not need to self-isolate.
If you are unvaccinated or partially vaccinated, you need to self-monitor and self-isolate for 10 days since you last had contact with a person with COVID-19.
---
COVID 19 Declaration
Prior to participating in any ASSP lesson or event, it is MANDATORY that all participants must complete the following declaration, that they are not at risk to spread COVID-19. You will receive an email or text reminder prior to each event/lesson, or alternatively, you can log in to your Snowline account and complete the declaration under About Me > Declare Covid Now. Again, this must be done prior to EACH Lesson, or you will not be allowed to participate.
You will continue to be required to complete a Covid Declaration prior to each lesson. Please note that the time frame in this declaration has changed from 14 to 5 days in keeping with current BC CDC guidelines.
THIS 5 DAY PERIOD APPLIES ONLY TO THOSE WHO ARE FULLY VACCINATED. STUDENTS UNDER 12, WHO ARE NOT VACCINATED MUST ADHERE TO A 10 DAY SELF-ISOLATION PERIOD BEFORE RETURNING TO PARTICIPATION IN LESSONS.
---
COVID-19 PROTOCOLS DURING YOUR LESSON

A proper mask is encouraged but no longer mandatory to be worn by all participants during lessons
---
WHAT CONSTITUTES A MASK?

In accordance with CADS National's latest directive (Jan 7, 2022), proper masks must be worn at all times. A buff, scarf or a thin cotton cloth layer is not considered a proper mask.
---
SKI Well, Be Well

Across North-America, the ski and snowboard industry has created a guide called SKI WELL, BE WELL, to ensure everyone can ski and ride safely this season.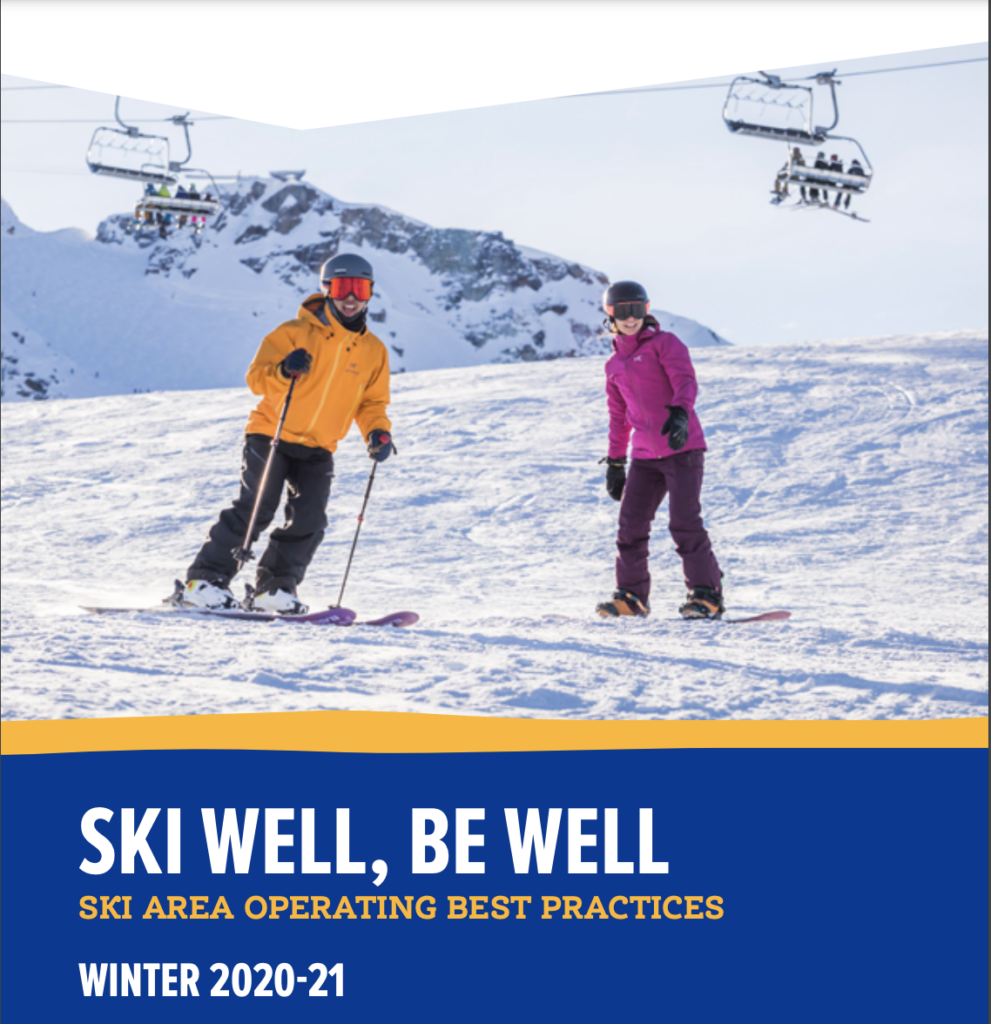 LINKS AND RESOURCES ASSP UPDATED WAIVERS AND POLICIES – Current Drafts
ASSP Return to Sport Plan
DRAFT ASSP COVID-19 Participation Agreement
DRAFT ASSP Illness Policy
ASSP Outbreak Response Protocol
SPORT AND RECREATION RESOURCES
Sun Peaks Resort LLP COVID-19 Policy and Procedures
BCAS Return to Sport Plan
CADS COVID Resource Page
SKI WELL, BE WELL
viaSport Return to Sport Guidelines for B.C.
PROVINCE OF BRITISH COLUMBIA
BC Provincial and Regional Restrictions
Provincial Health Officer (PHO) Orders, Notices & Guidance
HEALTH RESOURCES
BCCDC COVID-19 – Priority Populations
BCCDC Cleaning and Disinfecting
B.C. COVID-19 Self-Assessment Tool
First aid protocols for an unresponsive person during COVID-19
Hand Hygiene for People with Spinal Cord Injury
BCCDC COVID-19 – Hand Washing (Proper Methods of Hand Washing)
Health Canada List of Disinfectants with Evidence for use against COVID-19
OFAA protocols during the COVID-19 pandemic (Occupational First Aid Attendants)
Taking care of your mental and physical health during the COVID-19 pandemic
Interior Health
WORKSAFE BC RESOURCES
COVID-19 Safety Plan Template
Returning to Safe Operations
POSTERS
Do not enter if you are sick
Hand Hygiene
How to Wear a Face Mask
Physical Distancing