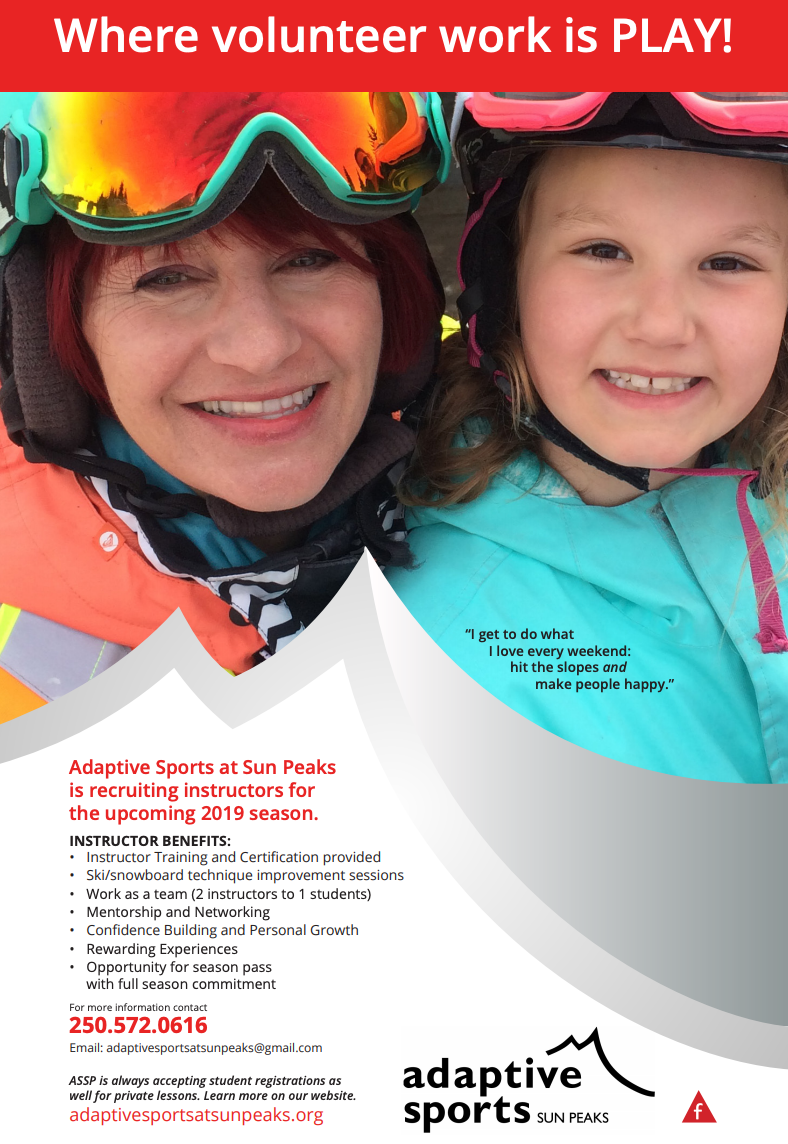 We are currently recruiting instructors for our Ski, Snowboard, and Nordic** programs.
There are two volunteer instructor options:
Option 1: 100 hr+ commitment earns a free season pass (adds up to approx 12 days of volunteering). Sun Peaks Resort LLP generously donates 30 of these passes so they are in limited supply. Generally, these volunteers sign up for one weekend day a week (or weekday) starting weekend of 28 Dec 2019. We run 2 x 5 week lesson sets starting 28 Dec and 15 Feb. There will be a couple mandatory training weekend days in addition to the lesson schedule.
Options 2: Volunteer hours at your discretion. We train you, you provide your own lift ticket. The resort holds early bird pricing for our volunteer instructors until 31 Dec. Goal is to contribute a minimum of 20 hours. Each lesson is 2 hours with a 3 hour volunteer credit. Each day of instructing is 7 hours (2 lessons, 1 hour training).
Minimum Requirement: Must be able to confidently ski/snowboard down a blue run and provide a cleared Criminal Record Check. We will teach you the rest!
Our training dates are set for 13-15 December 2019 for Canadian Adaptive Snowsports (CADS) Level 1 Certification for ski or snowboard instructors. This weekend is mandatory for new instructors to CADS. Should you be accepted into our program, we will pay for your training.
** For Nordic, the training and volunteer hours are unique to the above. Please call to learn more about the Nordic program if you are interested.
How to sign up?
If you are excited to join our team of instructors, please visit assp.skiportal.org. Click Join, and follow the prompts. Thats it! We will contact you with more information after that.
If you have any questions about our program, feel free to contact adaptivesportsatsunpeaks@gmail.com.